3-in-1 dumbbell to help you build a perfect figure
Xingya editor 2023-07-29 11:09:39
In recent years, the fitness craze has swept the world, and more and more people have begun to pay attention to their physical health and appearance. In order to meet the market demand, Shandong Xingya Sports Fitness Co., Ltd. has launched a brand new 3-in-1 dumbbell, which provides more choices and convenience for fitness enthusiasts.
This latest 3-in-1 dumbbell combines the functions of traditional dumbbells with an innovative design that makes it more practical and versatile. (weight adjustable dumbbell price in china) It is made of high-strength plastic material, light and easy to carry, which is convenient for users to exercise anytime and anywhere. The appearance design of the dumbbell is simple and stylish, which meets the aesthetic needs of modern people.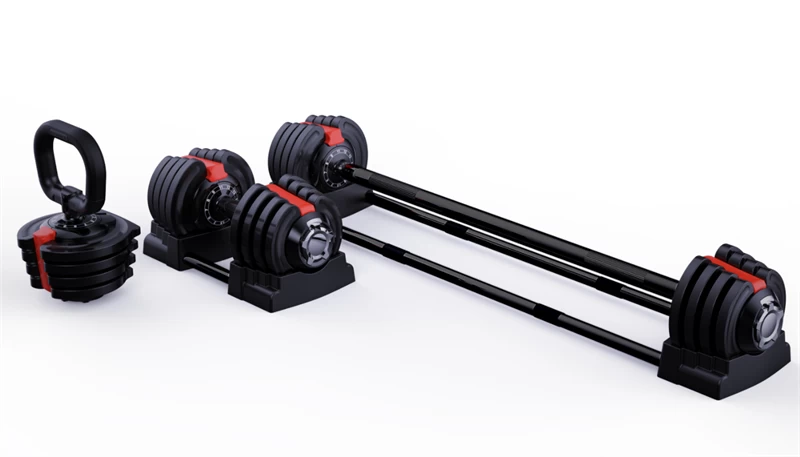 China 3 in 1 Dumbbell Manufacturer
The biggest feature of this three-in-one dumbbell is that it can be combined freely according to individual needs. It includes two dumbbell bars and six removable weights, each weighing 2.5 pounds. Users can choose the appropriate weight combination according to their own exercise plan and physical condition, so as to achieve different intensities of exercise. Whether you are a beginner or a fitness expert, you can adjust it according to your own needs to achieve a personalized exercise effect.
In addition to the function of free combination, this 3-in-1 dumbbell also has a variety of exercise methods. It can be used as a traditional dumbbell for arm and chest exercises; it can also be connected to a long bar to perform full-body exercises such as squats and deadlifts; it can also be connected to two dumbbell bars to become a A short bar for shoulder and back exercises. Whether you're looking to build muscle or lose fat, this 3-in-1 dumbbell has it all.
In addition, this 3-in-1 dumbbell is also equipped with a humanized design. (hexagon dumbbell set with rack) The surface of the dumbbell bar is treated with anti-slip, which increases the stability of the grip and reduces the risk of accidental slipping. The connecting part of the weight plate adopts an innovative locking device to ensure that the weight plate is firmly fixed and will not loosen during exercise. These design details reflect the brand's concern for user safety and comfort.
Overall, this new 3-in-1 dumbbell is a powerful and beautifully designed piece of fitness equipment. Its appearance will provide more choices and conveniences for the majority of fitness enthusiasts, helping them exercise better and shape a perfect body. Whether at home, in the office or in the gym, you can enjoy an efficient fitness experience anytime, anywhere. It is believed that this three-in-one dumbbell will become the new favorite in the fitness industry and lead the fitness trend.